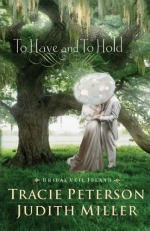 This jointly-authored novel by Tracie Peterson and Judith Miller was an easy, pleasant, "typical" Christian fiction read. Set in 1886, a young Southern-roots single gal and her "formerly"-alcoholic father move down to their ancestral home in Georgia after residing in Pennsylvania. Shortly after their relocation, they learn their island has been purchased for development into a resort. What happens thereafter includes false assumptions - turned - romance for this single, young main character named Audrey.
I chuckled at the character Aunt Thora and her animosity towards the "Yankees" that came to work on the island. Her quirkiness added a lot to the story and despite her sometimes odd actions, there was love for the family at the heart.
I enjoyed the fictitious setting of BridalVeil Island and the obstacles and uniqueness that living on an island added to the storyline. It was interesting to compare the plans within the novel of their "grand resort" versus what an equivalent idea would play out to include in today's society.
This book was a clean, quick read but lacked any real "can't put it down" drama.
Disclosure of Material Connection: I received this book free from Bethany House, a division of Baker Publishing Group. I was not required to write a positive review. The opinions I have expressed are my own. I am disclosing this in accordance with the Federal Trade Commission's 16 CFR, Part 255: "Guides Concerning the Use of Endorsements and Testimonials in Advertising."